I LOVE my Silhouette machines! (Yes, plural! lol) I use them for so many things on a daily (YES, daily!!!) basis. Today I wanted to share some of the "Back to School" photo props I made to do some photo shoots with this fall. (Photographing, another passion of mine! Just love it!!!) And my SIL makes it even more fun to create the set up!


Yesterday I showed you the cute mirror I used in one of them with my daughter in front of some lockers. So fun! (Although it made her look way too old IMO.) sniff sniff

Here are a few other ways I used my SIL to make some photo props for this Back-to-School mini session.

Another locker shot. This time I cut out the words to use on the chalkboard with my SIL. I actually just put them on black paper and pop the paper in and out of that little chalkboard frame depending on which child I am photographing.


LOVED this fun set up next! We had too much fun with it! I used my SIL to do the same with the large "Back to School" sign, but placed it on a black posterboard this time, and wala! It looks like chalkboard!
And then there is the growth chart! Always a fun one to use on any milestone event! Perfect!
There you have it! Some of my favorite ways I've used my SIL machines. But wait!!!! There's more today!!!
I'm excited to be part of a large group of bloggers that LOVE our Silhouette machines!!! So a bunch of us (19!) all teamed up and are helping host a HUGE Silhouette GIVEAWAY that you don't want to miss!!
PLUS they all have A.MAZING blogs that you'll want to check out!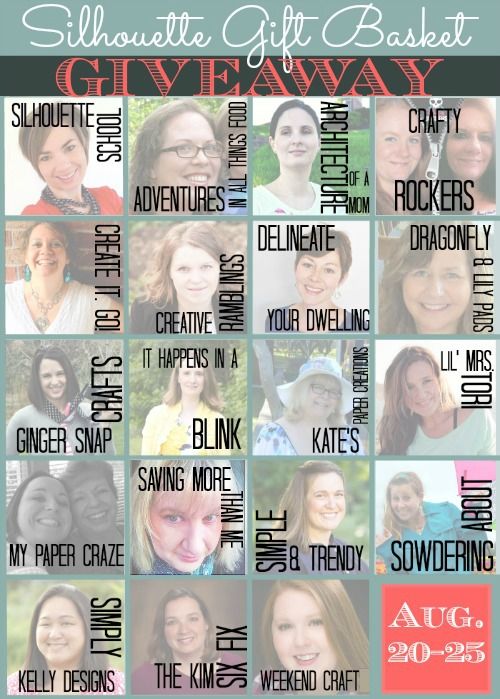 The GIVEAWAY is for a basket of over $200 Silhouette items!
Melissa from The Silhouette School
is a genius for putting this all together and knows exactly the best things to get!! And they have come out with so many new amazing things lately, there is something for the beginner and for the novice! There will be ONE grand prize winner and the giveaway goes from today,
Wednesday, August 20 at 7 am EST

-

Monday, August 25 at 11:59 PM EST

.
So...don't wait! You know you want this!!
Check out how to enter through Rafflecopter and to see more details here:
a Rafflecopter giveaway