#diy #olaf #frozen #costumes #olafcostume #createitgo
Do your kids LOVE the movie "Frozen"? Does your whole family know the words to the song "Let it Go" (like mine does)? Then you're going to love this costume!!
My daughter decided just last week that she was GOING to be Olaf for Halloween this year. Good thing I overheard her telling someone else this! haha
So I set out to see what costumes were out there.
There are actually lots and lots of ideas, but none that seemed to fit what I wanted. SO I thought, I could make a super easy snowman dress out of tulle (at $1/yard, you can't beat that!)
The only issue was the head...I wanted it on her head, not her chest or stomach...I wanted three parts to the snowman (just like Olaf has). So the I had the grandeous idea of a super cute crocheted hat. I headed on over to Etsy and was not disppointed. I LOVED this one though from KrazyHats
here
.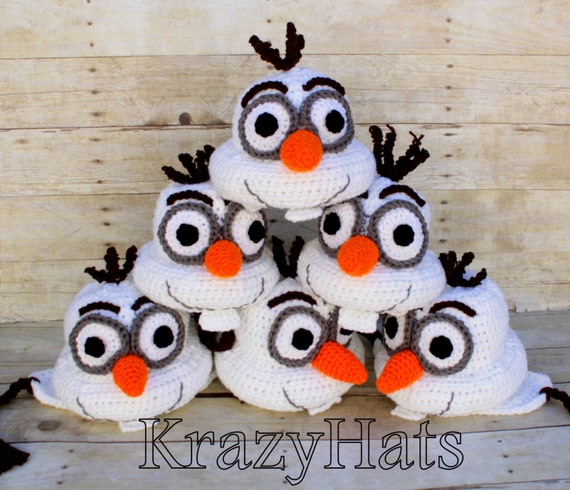 Aren't they PERFECT?! They best design and quality! And she is amazingly fast and accomodating!I ordered a hat and had it in hand a week later! Thanks so much!!!
Then I was ready to start the dress, when I realized that I already had something that might work. My daughter was an angel a few years ago and we had made her a tulle skirt by just hemming the top and stringing a ribbon through the top. (I posted it
here
.)
I pulled that out and wrapped it around under her armpits and then added a sash and wala! I was going to make a bubble skirt and fill it up a bit more, but decided to call it good with this repurposed skirt. Added a three white fabric circles for the snowman buttons that I just safety pinned on, a white shirt and tights underneath, and it was seriously one of the easiest costumes I have ever put together. Love it! And so does she!
And the best part, but putting the money into the hat (instead of a whole costume that she would only wear a couple times), she now has the cutest winter hat to wear over and over and over!
I know I am biased toward her, but I do think that she (and this) is the cutest Olaf costume out there that I have seen while still looking like a snowman with three parts and a great Olaf looking head, The hat totally makes it! Thanks again to
Krazy Hats
!